Getting your Skates Sharpened
NoSweat didn't start off with skate sharpening, our first business was equipment cleaning. But due to the high demand of people wanting precision sharpening, NoSweat decided to answer the call. Armed with three skate sharpening machines, and two professional skate sharpeners, NoSweat is ready to tackle any skate sharpening problems you have.
CUSTOM/PRECISION SHARPENING
NoSweat prides itself on being the number one skate sharpening in Calgary. We keep a record of how we sharpen your skates, that way we can build YOU a custom sharpening. Don't like your skates too sharp? No problem we can sharpen them less than 5/8. Like your skates so sharp that they cut right through the ice and dig into the concrete? We can do that too. Most places only have the three settings; 3/8, 1/2, and 5/8. Here at NoSweat we will do what ever YOU want, even the Flat Bottom V sharpening (FBV).
SKATE REPAIRS
NoSweat understands that some of you are not willing to give up your old skates and get a new pair. So to get a few more years out of those old slippers we offer a few repairs to help you get the most out of them.
We sell the top of the line replacement steel, Step Steel , Flare Blades, and Bladetech.
Missing a few rivets? We got you covered. New skates or old ones just don't fit right? Not a problem, we offer heat molding as well.
Any questions about our skate repairs? Don't be afraid to call us.
NOSWEAT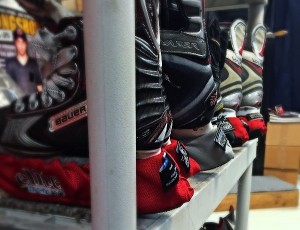 At NoSweat our main focus is skate sharpening. We don't sell skates or sticks, that way we can totally focus on sharpening skates. Because of this our wait times for sharpening are VERY LITTLE to NO WAIT TIME at all. Don't worry, it's NoSweat, we will have you in and out in no time.
We look forward to seeing you in our shop. If you have any questions feel free to give us a call or email. We will be happy to help you.